7th International Sheep Veterinary Congress
Stavanger, Norway, 12th – 16th June 2009
In September 1995, the autumn meeting of the Sheep Veterinary Society was held in Sandnes, on the South West coast of Norway. The SVS was the formal organizer, while The Norwegian School of Veterinary Science, Section for Small Ruminant Research in Sandnes (NVH), together with The Norwegian Small Ruminant Association ("Småfeforeningen") and the local Veterinary Association, were involved in the arrangement. A Scandinavian Programme Committee, headed by Martha Ulvund, and a Local Organizing Committee, headed by Snorre Stuen, pulled off the meeting, which became very successful. As a consequence, many sheep veterinarians in Norway, as well as abroad, started to discuss the possibility for Norway to host the large International Sheep Veterinary Congress (ISVC).
For Norway, sheep are not only an important source of meat, milk and wool; but are also very precious for home crafts and domestic industries, cultural traditions and landscape preservation. Norway is a mountainous country, and few grazing animals other than sheep are able to utilize the landscape. For those who are not familiar with Norway, NVH has a separate section for Small Ruminant Research in Sandnes, where more than 20% of the country's sheep are located, 600 km from the main Campus in Oslo, and where veterinary students since 1990 have come for courses in sheep medicine. From 1943 to 1990, this institution was a State Veterinary Research Station for Small Ruminants, under the Agricultural Department. Ever since the formation of the British Sheep Veterinary Society in 1967, sheep veterinarians in Sandnes have had contact with the SVS and benefited from its network and competence.
During the ISVC in 2001 in Stellenbosch, South Africa, suggestions came up from the audience that Scandinavia, and particularly Norway, should apply for hosting an ISVC. After discussions among the Norwegian and Scandinavian sheep veterinarians, it was finally decided to make a bid for the next ISVC at the 2005 ISVC in Crete, Greece. It was natural that NVH was involved, NVH was consulted, agreed, and Martha Ulvund was appointed to present the Norway bid. After this presentation, the congress decided that Norway, and NVH, should host the 2009 ISVC in Sandnes-Stavanger.
The planning started almost immediately after the return from Crete. Stavanger Forum was booked as the Congress site, and hotel rooms in the nearby hotels were also booked. Then, during the spring of 2006, five committees were established. To make the congress work effectively and as practically as possible, the leaders of each committee had to come from the Sandnes area, and these constituted the Coordinating Committee. The committee members were as follows (* from NVH, Sandnes):
COORDINATING COMMITTEE: Chairperson: Martha J. Ulvund*, Ass: Halvor Hektoen, Members: Snorre Stuen* (Ass: SynnøveVatn), Per Oma (Ass: Wilmar Kolnes), Siv Meling* (Ass: Asle Bjørgås) Guro Myhrene (Ass: Wenche Torsteinsbø*), Sondre Urban (Ass: Rune Haldammen) and Jostein Bjorland*.
ORGANIZING COMMITTEE: Chairperson: Martha J. Ulvund*, Ass: Halvor Hektoen, Members: Ellef Blakstad, Lars Olav Eik, Erik Georg Granquist*, Paul S. Valle, Siv Meling*, Ola Nyberg, Torunn Rogdo*, Svend Bek Pedersen DK, George Fthenakis G, Brian Hosie UK, Ken Pettey SA, John Plant Au, Paul Roger UK, Lisbeth Rudby Martin S, John Smart, NZ and Agnes Winter, UK.
SCIENTIFIC COMMITTEE: Chairperson: Snorre Stuen*, Ass: Synnøve Vatn, Members: Jostein Bjorland*, Knut Bø, Torleiv Løken, Tormod Mørk, Gareth Bath SA, George Fthenakis G, Martin Ganter G, Ramon A. Juste Sp, John Larsen Au, Paula Menzies C, Neil Sargison UK, Mary Smith USA, Piet Vellema NL and David West NZ.
SPONSOR COMMITTEE: Chairperson: Per Oma, Ass: Wilmar Kolnes, Members: Gareth Bath SA, George Fthenakis G, Kate Hovers UK, Anne Marie Jahr, Ken Pettey SA, John Smart NZ and Warren Webber NZ.
LOCAL COMMITTEE (Accompanying person's committee): Chairperson: Guro Myhrene, Ass Wenche Torsteinbø*, Members: Astrid Berg, Atle VM Domke*, Erik G Granquist*, Asbjørn Haga*, Jorunn Mork, Arvid Reiersen and Magnus Solberg.
PRE CONFERENCE TOURS COMMITTEE: Chairperson: Siv Meling*, Ass: Asle Bjørgaas, Members Svend Bek Pedersen, DK, Asle Bjørgås, Tone Kjeang, Nils Leine, åsa Lindquist, S and Siv Svendsen Bjormo.
THEME for the Congress was: "Sound sheep, safe food, warm clothes and landscape preservation".
During the three years to come (2006-2009), meetings were held regularly in the committees. All members of all committees put a large effort into the work.
The Coordinating Committee met every month during the first year, then every fortnight, and finally every week during the last months before June 2009. Stavanger Forum participated in most meetings during the final year. A contract was signed with "Lokomotiv" for a home page on the internet (www.isvc09.no), the page is still open (until 2014). Suggestions and decisions made in the various committees were finally dealt with by the Coordinating Committee.
The Organizing committee received advice and suggestions from its members particularly in the initial stages. Altogether 250 delegates, plus around 50 accompanying persons, from 35 countries eventually participated in the Congress.
The Scientific committee worked on topics, presentations, key note lectures and round table discussions. Finally, the Proceedings included 131 short oral presentations (three parallells), 49 posters, and seven key note lectures from around 30 countries. Invited speakers were C Dwyer (sheep welfare), G Fthenakis (ECSRHM), G Hendrickx (Bluetongue), F Jackson (worm control), ST Morris (Economics), T Nesbakken (Food safety), S Vatn (Nordic sheep industries) and A Winter (Footrot).
The Sponsor committee sent numerous applications and received sponsorship from 18 various small and large companies, thus providing necessary and vital income to assist with the budget.
The Local accompanying person's committee planned tours to The Pulpit Rock, local sheep farms, guided tours around Stavanger, dinner and dancing, walking sheep to the mountains, walk to the Måna waterfall, dinner at Gloppehallen, a boat trip, and a visit to a spinning mill.
The Pre congress tours committee offered one long and one short tour. The long tour started in Oslo, the short one joined the long one in Bergen. To operate as guide for the tour, the committee got Guro Myhrene (head of the Accompanying Person's Committee), and this was very successful. Maps of the tours are included below. In Oslo, there was a visit to the NVH main campus, National Veterinary Institute and The Norwegian Food Safety Authority. Then the tour went to Gudbrandsdalen and Lom, including visits to local sheep farms with culture, local food and music. Then further on to Fossheim and Jotunheimen National Park, and westwards to Grotli near Galdhøpiggen, Nordfjord, Voss (lots of sheep), Bergen, Ryfylke, with a popular stop at Siv Meling's farm, and finally Stavanger.
Pre conference long and short tours, South Norway, ISVC 2009 Stavanger
Summary
The Congress, including the Pre Congress tours, was successful, it ended financially in balance (budget 3.7 million NOK), technical preparations and arrangements were demanding but functional, the papers were good, relevant and inspiring, and the proceedings came out fine. Socially, we all felt happy about it, we really felt that the "family of worldwide sheep veterinarians" appreciated the Congress – in good SVS spirit and tradition.
Martha J. Ulvund
Convenor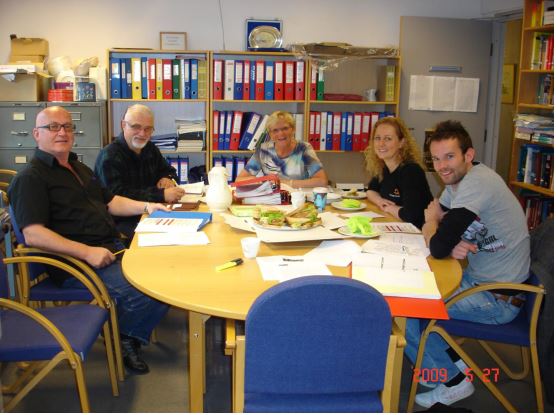 ISVC Stavanger, Norway, 2009. Parts of the Coordinating Committee; Jostein Bjorland (NVH), Per Oma (practice), Martha J Ulvund (convenor, NVH), Bodil Lande and Rune Haldammen (Stavanger Forum).
Photo: NVH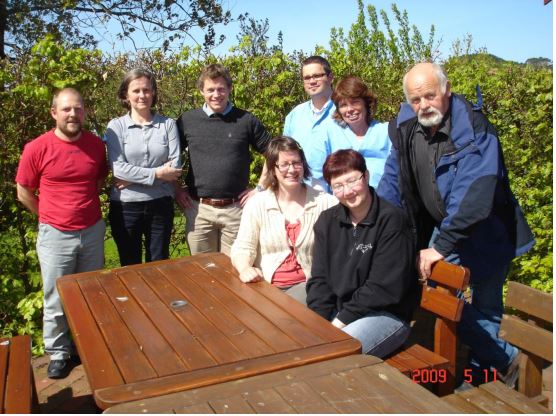 ISVC Stavanger, Norway, 2009. Local accompanying person's committee; from left Asbjørn Haga (NVH), Jorunn Mork (VI), Erik G. Granquist (NVH), Atle Domke (NVH), Wenche Okstad (NVH), Magnus Solberg (Practice), Guro Myhrene (Food authorities) and Astrid Berg (industries) in front.
Photo: M J Ulvund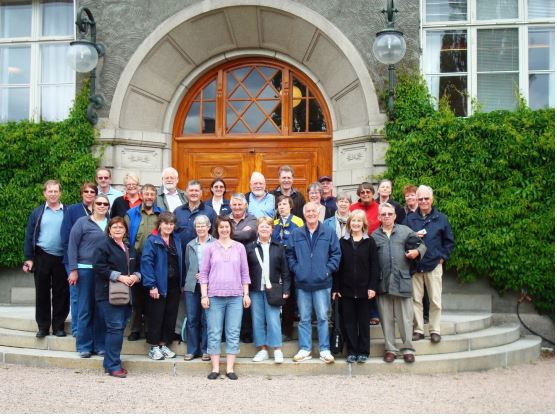 Participants in the long pre congress tour in front of NVH main building, Oslo. Guide Guro Myhrene in front.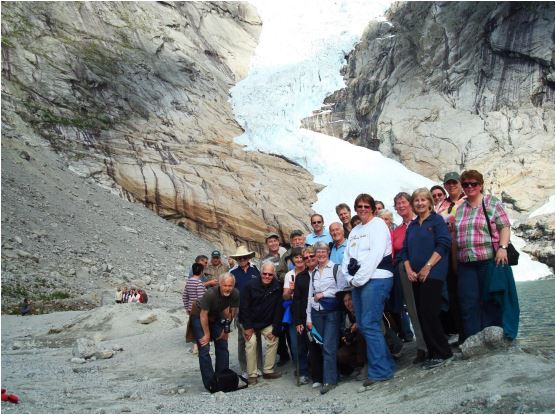 Participants in the long pre congress tour in front of Briksbreen.
Photo Guro Myhrene.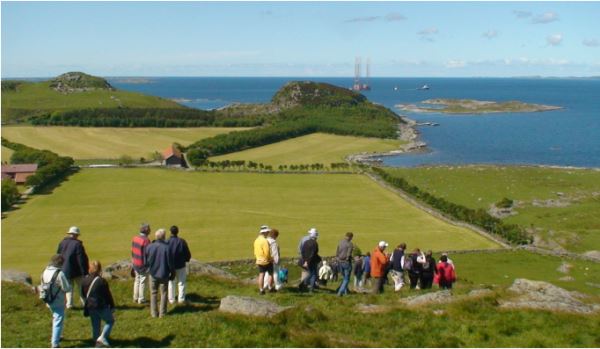 Participants in the long and short pre congress tours in cultural landscape at Rennesøy, Rogaland.
Photo Guro Myhrene.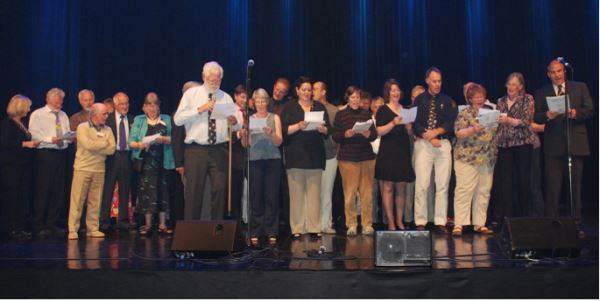 Cultural evening.
Photo Karl Hammarberg.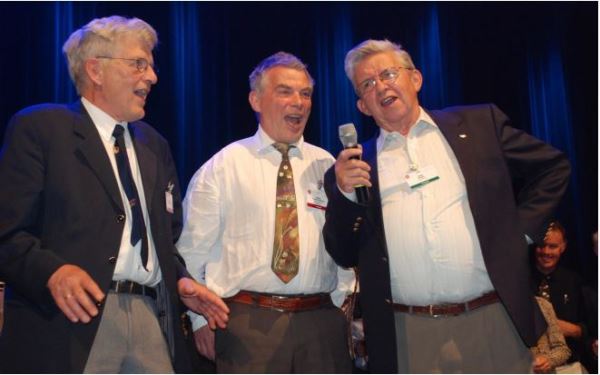 Svend Bek Pedersen (Denmark), Karl Hammarberg (Sweden), and John Plant (Australia) singing!
Photo Mrs Hammarberg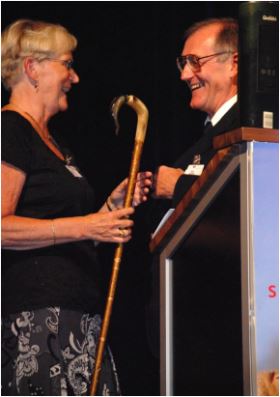 Sam Mansley presenting a gift to Norway from the British SVS.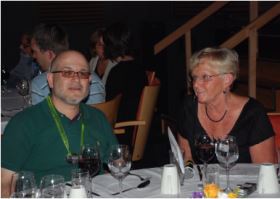 Convenor ISVC 2009 George Fthenakis and Martha Ulvund.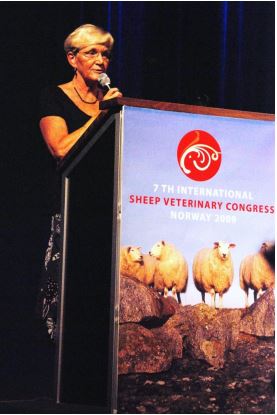 Opening the congress, Martha Ulvund Convenor.
Photo Karl Hammarberg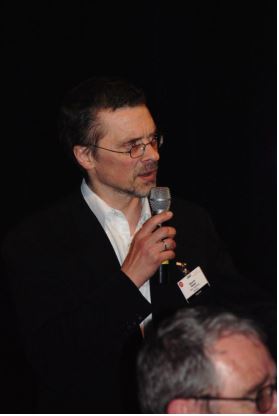 Head of Scientific Committee Snorre Stuen.
Photo Karl Hammarberg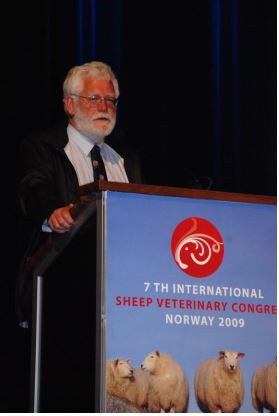 Newly elected president of ISVA, Gareth Bath South Africa.
Photo Karl Hammarberg.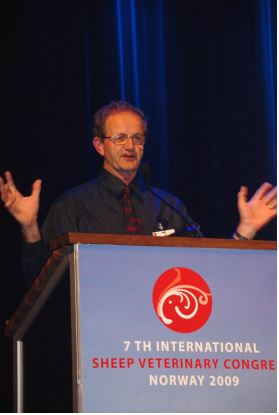 Next convenor, ISVC 2013 John Smart, New Zealand.
Photo Karl Hammarberg.