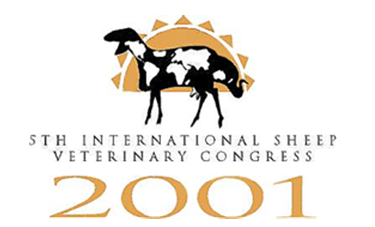 5th International Sheep Veterinary Congress
Stellenbosch, South Africa, 21st - 22nd January 2001
Background
There were no South Africans at the inaugural meeting for sheep veterinarians held in 1985, mainly because nobody was informed or invited, but a few sheep vets and their partners were at the second meeting in New Zealand in 1989, where the possibility of holding a future meeting in South Africa was first informally raised. However there were reservations about the political situation in South Africa at that time and thus no further action was taken. By 1993 the political climate had improved but since Australia had decided to make a bid in Edinburgh for the 1997 Congress, South Africa supported this and held back its bid. By 1997 all the right political changes had happened and with the full support of the SAVA and LHPG we formulated a bid for presentation in Armidale, Australia. America was the other bidder. These bids were much more informal and a far cry from the later professional and complete bids, being only verbal and not structured in 1997. The meeting voted to give South Africa the honour and responsibility of holding the Fifth Congress in 2001.
Organisation & Principles
Gareth Bath was chosen as Congress Organiser, with a small central organising committee consisting of Ken Pettey, leader of the Scientific Programme, Robin Linde, leader of the finances section, and Chris Carrington for liaison with industry. All were free to co-opt other persons as required. Initially they met every 6 months, then every 4 months, then quarterly and finally monthly. At the onset we established our goals:
The congress had to be a memorable event, giving overseas visitors a good overview of South Africa both as a country and as a sheep farming/research region.
There had to be a good balance between science and entertainment.
The congress had to be affordable for participants, both local and overseas.
The congress should not make a loss but there should be only a minimal operational surplus to allow for unplanned contingencies.
International participation in the scientific programme would be encouraged both for organisation and presentation.
We would seek to learn from past meetings and try to include all good features, building on past successes.
There had to be a range of options for accommodation, preferably within walking distance of the Venue.
Extras like entertainment functions would be budgeted separately and preferably be funded by an exclusive sponsorship.
Different levels of sponsorship entitled firms to different privileges and options.
A professional congress organiser would do all logistical arrangements.
The venue must be easily reached by participants arriving at an airport.
Whenever possible, transport to and from the airport to be arranged.
Comprehensive and attractive programme for accompanying persons.
Options for post-congress activities.
The venue must be safe, easily reached and attractive.
Industry to be approached and made part of organisation at an early stage, facilitating their support.
At least one pre-congress tour would be arranged, with more to be added if there was sufficient interest.
Venue
On the basis of our principles for holding a memorable, affordable and accessible congress, we had to consider many options but deleted them one by one because they did not meet one or more of the criteria we had set. Eventually the venue chosen was Stellenbosch, a lovely University town with a great ambience situated close to Cape Town and its international airport. It fitted all our requirements and expectations. Initially we were to use a rather cramped University lecturing venue but our conference organisers negotiated on our behalf to use the vastly superior Conservatorium Centre for Music with everything needed in a beautiful environment. It was close to University residences that were available for some participants who wanted to be closest, and within walking distance for most other accommodation options. There was enough exhibition space plus lecture halls for the planned parallel sessions and other required congress activities.
Pre-Congress Tours
Three Tours were conducted, each with about 30 people on luxury coaches. Tour 1 started on 11 January and visited de Wildt, Pilanesberg/Sun City, Lesedi, Faculty, Vrede, Mont-Aux-Sources, Ladysmith, Sani Pass, Kokstad, Umtata, Esta London, SABS, Kariega, Addo, Steytlerville, Oudshoorn, Knysna, Wilderness, Mossel Bay, Heidelberg, Swellendam, and Hermanus. Tour 3 started on 13 January and visited the Faculty, de Wildt, Pilanesberg/Sun City, Sterkfontein, Bothaville, Christiana, Kimberley, Britstown, Beaufort West, Oudshoorn, Knysna, Wilderness, Mosel Bay, and Heidelberg. Tour 2 joined Tour 3 on 15 January at Sterkfontein. Participants were given a good mixture of experiences in sheep and other farming, history, culture, wildlife and relaxation. We thank the many vets, farmers and others who made all 3 tours such a success for overseas visitors.
Scientific Programme
Over 170 papers were received and processed by the Scientific Programme Committee under the untiring chairmanship of Prof. Ken Pettey. We tried to accommodate most submissions either as papers or posters. Some submissions were withdrawn at the last moment, leaving gaps in the programme. Some submitters asked for full financial support after acceptance, but this was not ever offered, so some of these papers were also not presented. There were several papers which were invited and supported financially by prior arrangement. Generally the standard of papers were good to excellent, and Ken and this team must be congratulated on getting all submissions onto a CD as well as an abstract book in time for the congress. This was the heart of the Congress and Ken Pettey in particular deserves the gratitude of the LHPG for his incredible efforts over 2 years.
Website
Prof. Pettey also developed an excellent website for all participants, which kept everyone up to date and considerably simplified administration.
Advertising
Notifications and pamphlets were made available at the Pancommonwealth Congress (India 1998) the WVA Congress (France 1999). Our Website was linked to CVA, WVA and other websites. A first and second announcement was sent out to possible participants, and all national organisations were asked to publicise the event. Madaleen Schultheiss made sure that the congress was prominently advertised several times in Vetnews and LHPG Review. Letters were written to National and Provincial Veterinary Directors, Faculty staff and OVI.
Participants
Over 370 people from 26 countries took part in the congress. Most came from overseas, with Britain, Scandinavia, Australia, New Zealand and North Americans being well represented. We were happy to see Iran attend in force for the first time, and thanks largely to the CVA we had good participation from Africa. A grant from NDA ensured that several state vets from all provinces could be there. Most participants were full delegates, though some did take advantage of daily rates and there were around 70 accompanying persons. Sponsors were entitled to invite further delegates as part of their package.
Evening Entertainment
The welcoming evening on Sunday was sponsored by Intervet and consisted of snacks, drinks and music by the very colourful Cape Minstrels, who set the scene for the congress.
The Monday evening, sponsored by Bayer, was held in a huge, venerable barn on a nearby wine farm. First there was an exhibition of most of our local and indigenous sheep, and then the international songs and presentations, accompanied by wine and the South African braai.
The Tuesday evening was sponsored by Merial and was a visit by bus to a nearby fruit farm estate Deltameer with a dinner and entertainment consisting of drumming - most people participated with enthusiasm.
The next evening was free, and most enjoyed themselves eating al fresco in one of the numerous street restaurants in the town, enjoying a glass or more of South African wine.
The final evening on Thursday was a gala dinner an evening of magic, presentations, partying and dancing, a fitting farewell hosted by our principal sponsor Virbac. This was held in the City Hall and included the formal speeches and the announcements of the country to host the next congress, Greece.
Accompanying Persons Programmes
There were 5 tours during the congress, and these visited the Peninsula, Table Mountain, Robben Island, Wine Farms and sights around Stellenbosch. The tour operator AgriTours did not meet our expectations. This is an aspect that needs careful consideration in future.
Meals
Meals were available at Neelsies, the student centre, at a number of restaurants, which had contracted in. Delegates received vouchers for meals, this worked well and can be recommended.
Accommodation
Delegates could choose between University residences, bed and breakfast, and hotels. This seemed to work for most people, although some had unrealistically high expectations of university accommodation.
Transport
All delegates were offered pick-up and drop-off at Cape Town airport. Two minibuses were hired and the students as well as RHL and Robin Linde ensured that all were assisted until Friday afternoon.
Scientific Visits
On Wednesday there were visits arranged to various sheep farms, Elsenburg and Fairview. These were followed by visits to wine farms for wine tasting.
Special Events
The congress opened with short addresses from WA, CVA, Faculty, LHPG, SAVA and Keynote addresses from Retief Kotze of Virbac and Steve Cornelius, deputy Director General of NDA.
The LHPG's FAMACHA© system had its international launch sponsored by Intervet and was subsequently available to trained veterinarians. Also the book "Sheep and Goat Diseases" was launched at the congress at a special release price.
Sponsors
Virbac deserves our special thanks as principal sponsor. Their support, quite simply, ensured that we could present a congress that LHPG, SAVA and the profession could be proud of. Many delegates came away with Virbac cartoons to remember the congress. Our major sponsors Bayer, Intervet and Merial each went out of their way to add value during their evenings and at their exhibitions. Bayer sponsored the 9 students present, and had a "skaapdrolletjie spoegkompetisie" which proved very popular. Intervet had South African jukskei and live bait on offer, while Merial sponsored the hats which were so popular.
CVA and NDA helped by sponsoring delegates while Pfizer helped launch the book "Sheep and Goat Diseases".
Exhibitors
Experto Vet, OBP, Olympic, Novartis, Pharmacia and Philips all had good stands and helped ensure our success. The Faculty and LHPG/SAVA were given complimentary stands in prime positions. Chemonix sponsored all wines and were given a stand, while a further stand was available for an art exhibition. We as committee and LHPG thank Chris Carrington and also Robin Linde for their attention to the exhibitors and sponsors ensuring that they left more than satisfied.
Finances
A full financial report was drawn up, submitted and approved. The loan, and the trust placed in us to run the congress was we believe amply repaid. Our special thanks go to Robin Linde for his tireless efforts and eagle eye to ensure that a budget of around R1,5 million was handled so well.
Reservations Hotline
Our professional organisers, especially Bronwen Gogle, Nadine Stevens-Jennings and Anelja de Bok did an excellent job and can be strongly recommended as they covered all aspects so well.
International Association
It was agreed that South Africa would pursue this matter and make recommenda-tions. Gareth Bath tried to take this forward but real progress was only made after the 2005 ISVC.
Presentations
A number of presentations were made at the Congress. The LHPG received a crummock from British SVS and a Maori war club or mere from New Zealand's S + BCS. These were later mounted at Vethouse.
Thanks
We thank the LHPG for entrusting us with this congress. We believe from feedback received that it was a resounding success. Letters of thanks were sent to all who assisted with the congress.
Prof. Gareth Bath
Chairman: Congress Organising Committee
Photos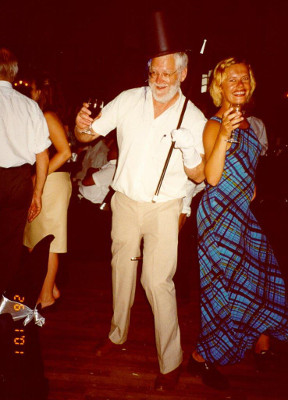 Pre-congress Tour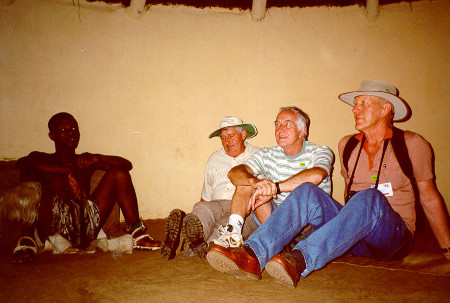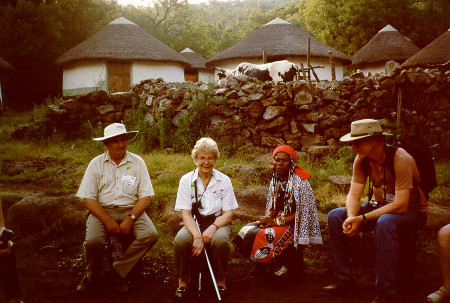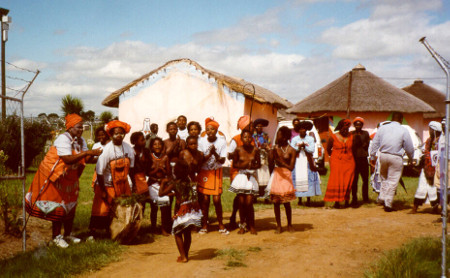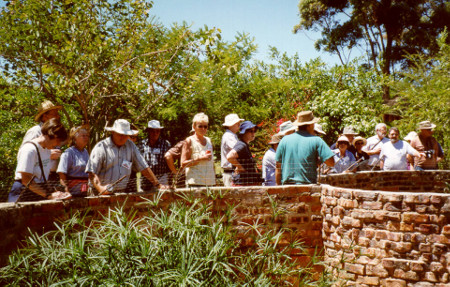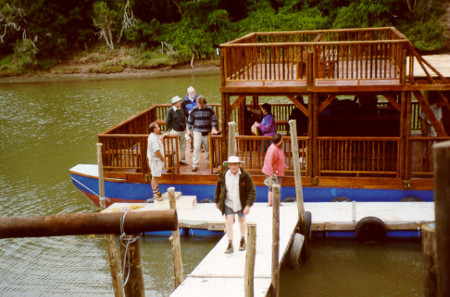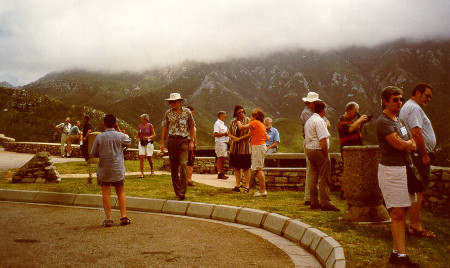 Boer War Experience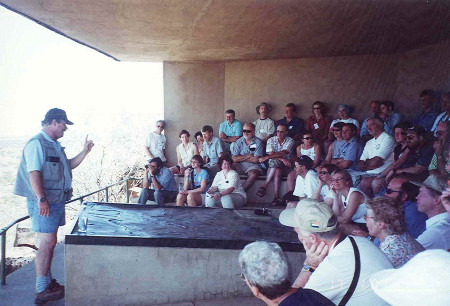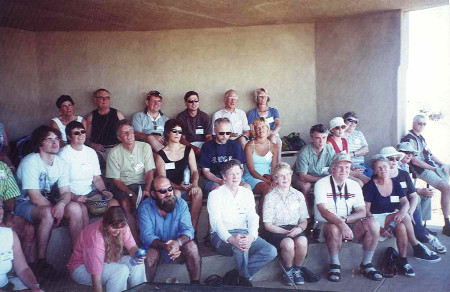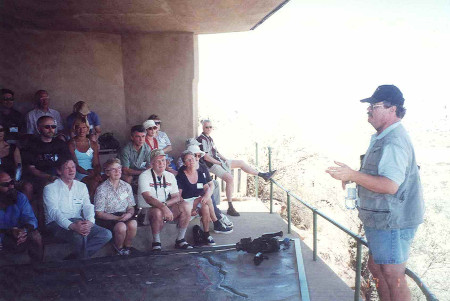 Bothaville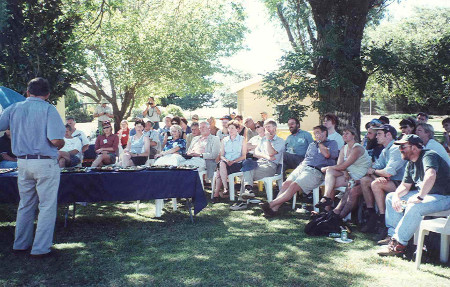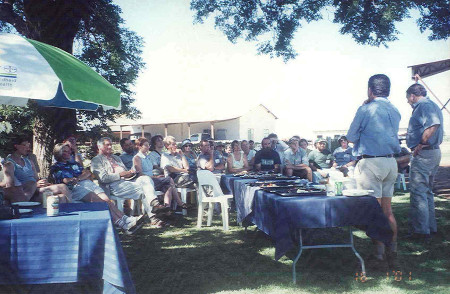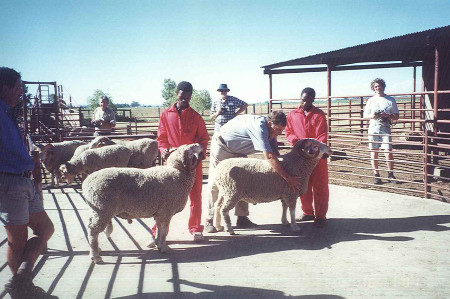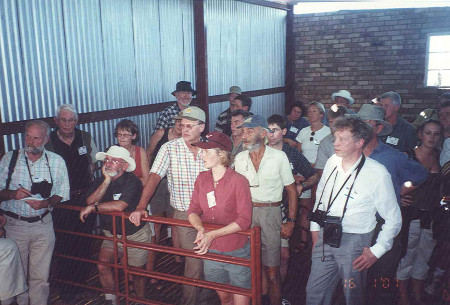 Buffalo Breeding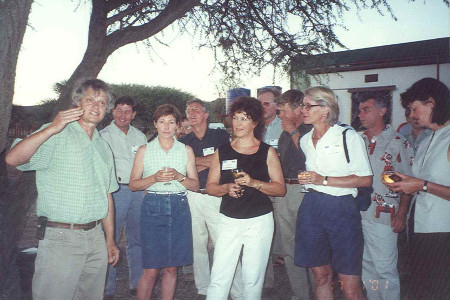 Congress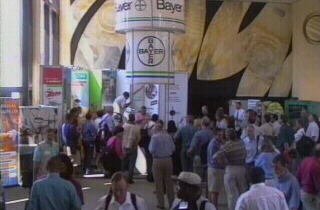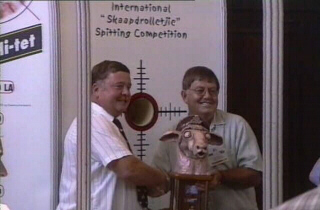 Congress Opening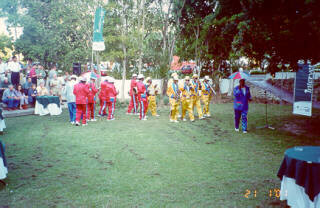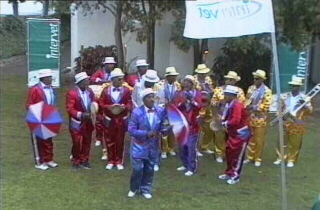 Deltamere Stellenbosch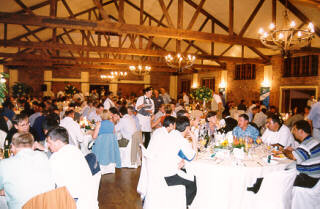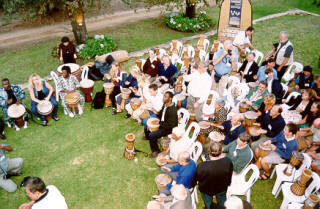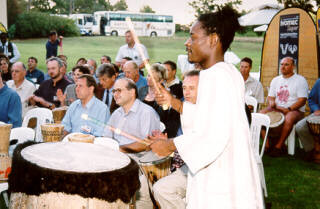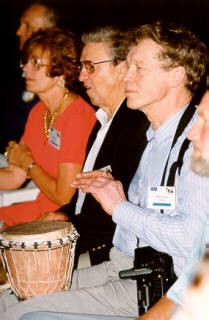 DeWildt Cheetahs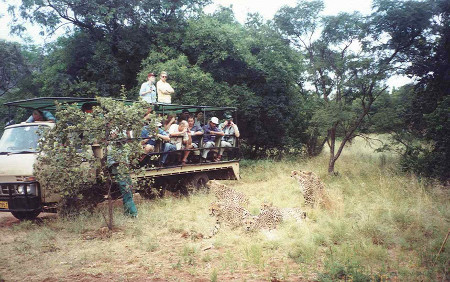 Gala Dinner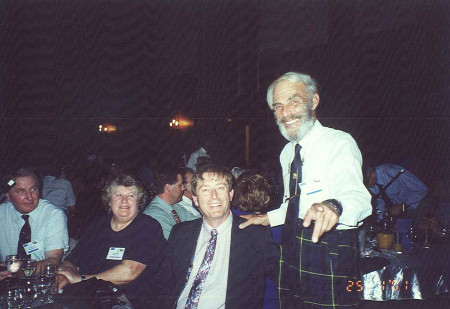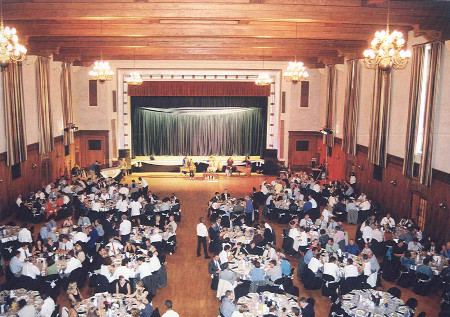 Karoo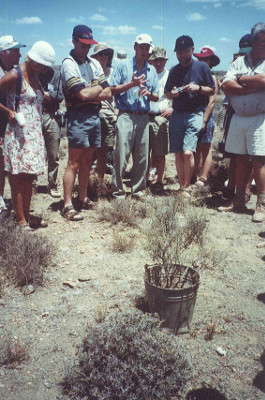 Karoo Braai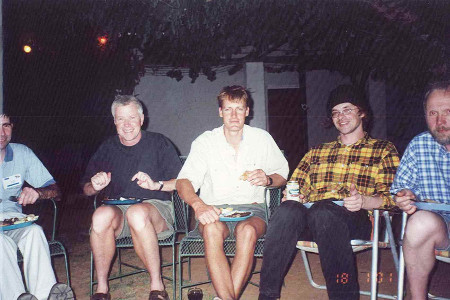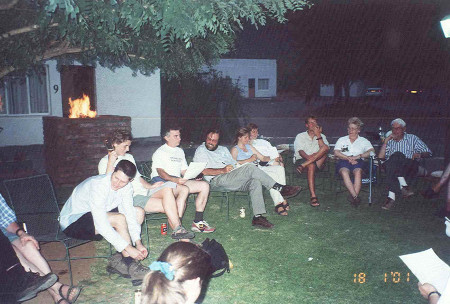 Precongress Tour Group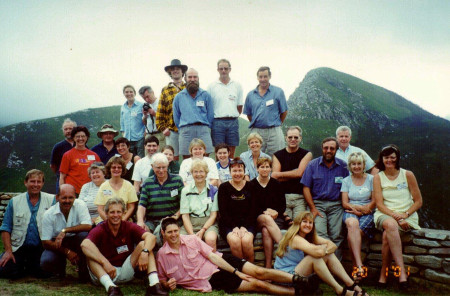 Precongress Tour Sterkfontein Caves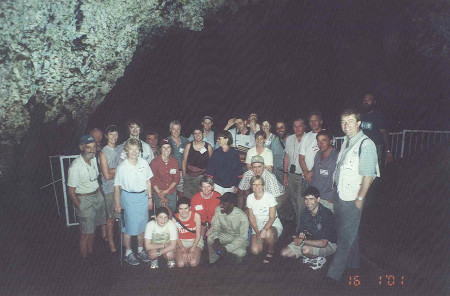 Kimbeley Club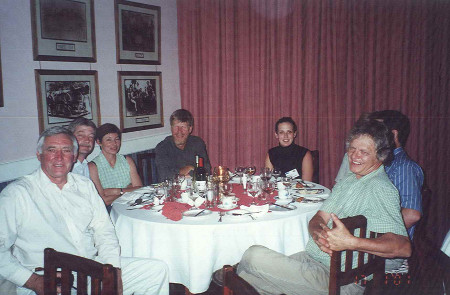 Kimberley Tram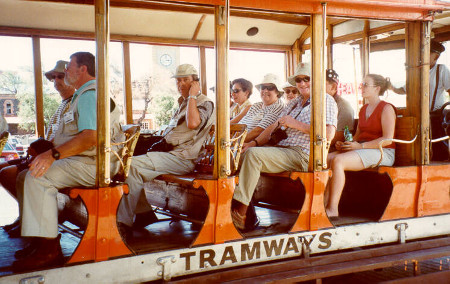 Lesedi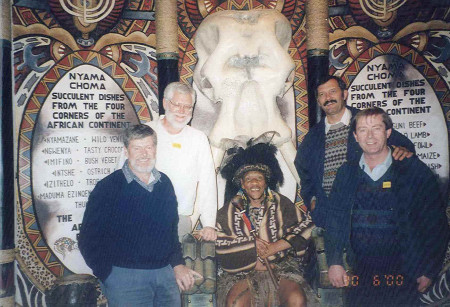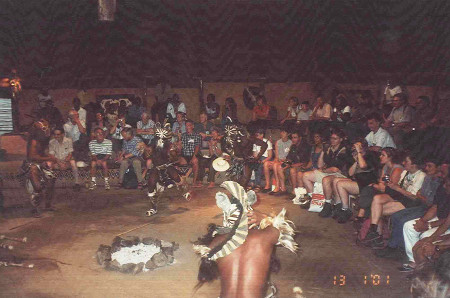 Mossel Bay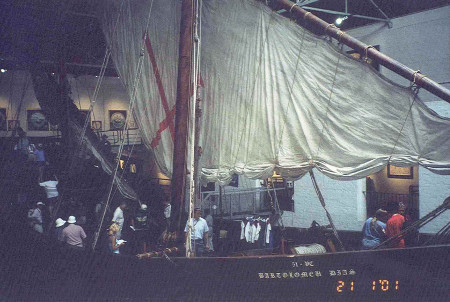 Nooitgedacht Stellenbosch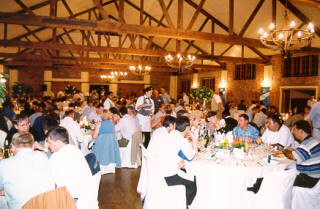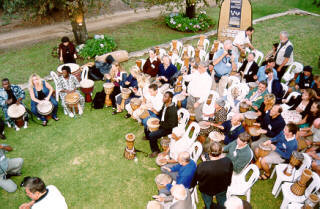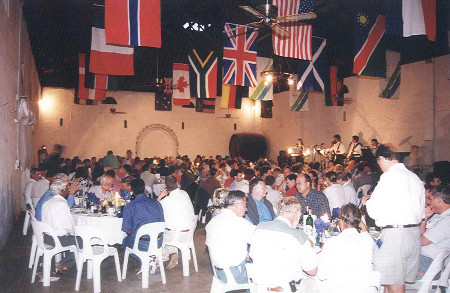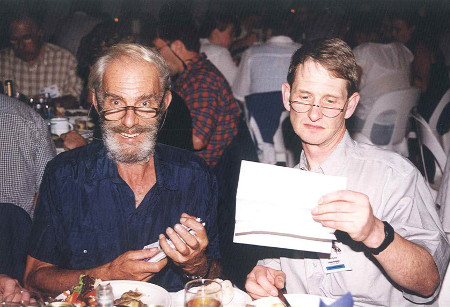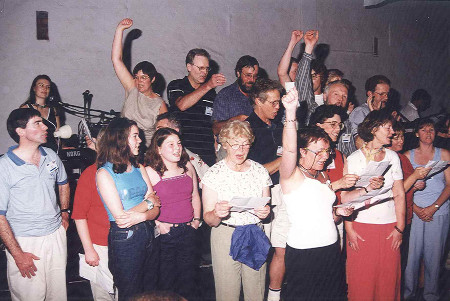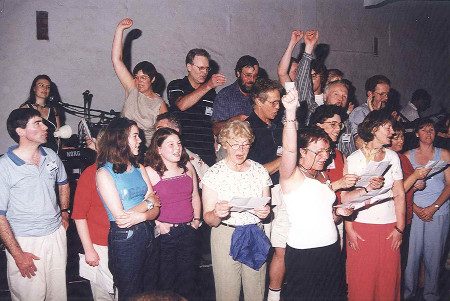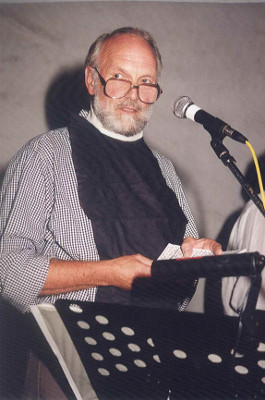 Epistle of No.2 Chariot (4MB PDF)
as told by David Henderson
Oudtshoorn Meal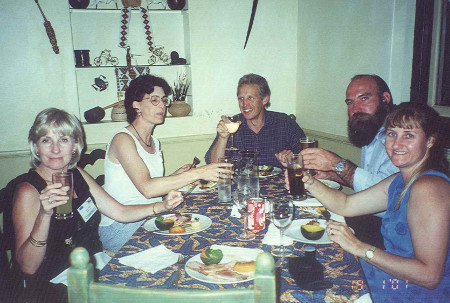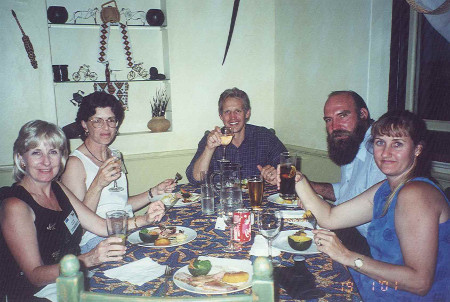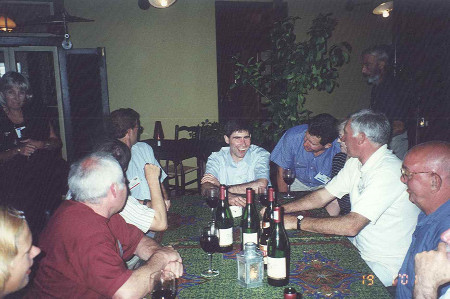 Presentation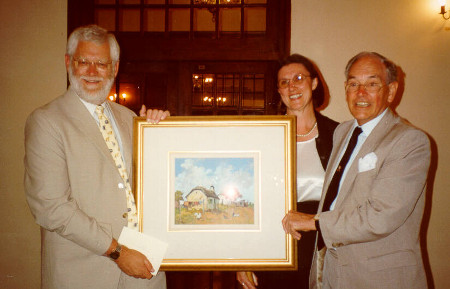 Wilderness Train Trip