The International Sheep Veterinary Association is an international body of sheep veterinarians who seek to promote and improve the sheep industry and facilitate meetings and other scientific exchanges between members and individuals more>>
The 10th International Sheep Veterinary Congress
Seville Spain
March 6 - 10, 2023 - only 5 months left!

Registration and Submission of Abstracts is now open
Deadline for submission of abstracts has been extended to NOVEMBER 30, 2022.

We encourage you not to wait until the last minute to submit your papers for the largest sheep congress!
Deadline for early registration is DECEMBER 20, 2022
Please visit isvc2023.com
The program covers the main topics of interest for the current situation in the sheep sector: sustainability, tackling antimicrobial resistance and global threats to small ruminants. There is also a fourth stream organized by the European college of small ruminant health management (ECSRHM) and the Spanish society for sheep and goat production (SEOC).
The congress is a five-day event that includes five plenary sessions, more than seventy keynote presentations and nearly 300 oral communications. The social program will allow you to enjoy the most emblematic places in Seville.
In addition, registration for the pre-conference and post-conference tours will be opened in the following days. The former is an eight-day event that will take you from the north to the south of Spain, visiting for that touristic places but also local sheep farms, so you would be able to see the different types of production of the Spanish sheep industry together with beautiful landscape and historical monuments. The post-conference tour will focus on Andalusia's main cities but will also include visits to Andalusian sheep farms.
The organizing committee is looking forward to seeing you all there!
Announcement - The 11th ISVC, 2025 has been awarded to Australia.  
The ISVA executive committee is delighted to announce that the Australian Veterinary Association has submitted a successful bid to host the 2025 congress.  Please visit the 11th ISVC 2025 page and download the bid document for more details.
The World of Sheep and Goats
A global view of small ruminant production
Images and text submitted by delegates attending the 9th International Sheep Veterinary Congress.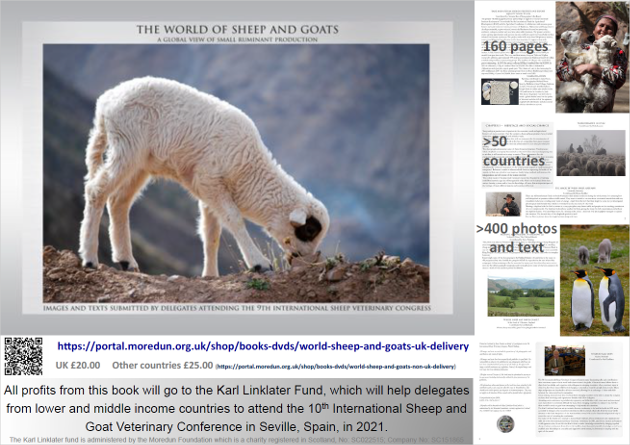 All profits from this book will go to the Karl Linklater Fund, which helps delegates from lower and middle income countries to attend the 10th International Sheep and Goat Veterinary Conference in Seville, Spain, in 2022.
https://portal.moredun.org.uk/shop/books-dvds/world-sheep-and-goats-uk-delivery
https://portal.moredun.org.uk/shop/books-dvds/world-sheep-and-goats-non-uk-delivery