The International Sheep Veterinary Association is an international body of sheep veterinarians who seek to promote and improve the sheep industry and facilitate meetings and other scientific exchanges between members and individuals more>>
The 10th ISVC to be held in Seville Spain - March 6 - 10, 2023

Due to ongoing issues related to COVID-19 and due to the rescheduling of the World Buiatrics Congress to September, 2022 in Madrid Spain, the 10th ISVC will now take place in March 6-10, 2023.  Please keep up-to-date on the 10th ISVC 2023 website.

Visit the website for more information on registration.
ISVA Special Meeting - to be held virtually November 25, 2021 20:00 - 21:30 UTC
A special ISVA general meeting will be held virtually to accommodate delays to the ISVC due to COVID-19 restrictions.  Times and detailed agenda has been posted.   All ISVA members have been notified on how to register for the meeting.  Please let the Secretary know if you believe you should have received an invitation but have not.
Announcement - The 11th ISVC, 2025 has been awarded to Australia.  
The ISVA executive committee is delighted to announce that the Australian Veterinary Association has submitted a successful bid to host the 2025 congress.  Please visit the 11th ISVC 2025 page and download the bid document for more details.
The World of Sheep and Goats
A global view of small ruminant production
Images and text submitted by delegates attending the 9th International Sheep Veterinary Congress.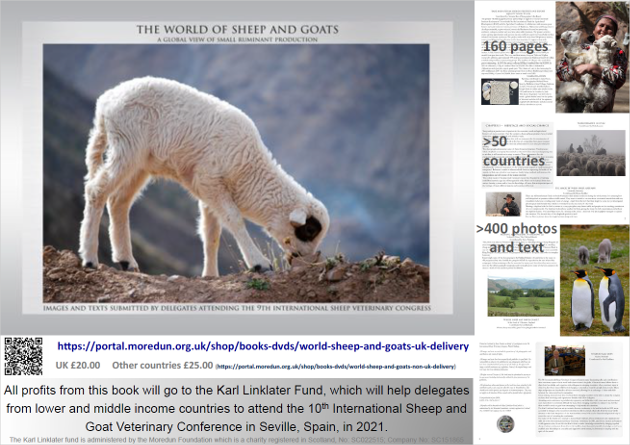 All profits from this book will go to the Karl Linklater Fund, which helps delegates from lower and middle income countries to attend the 10th International Sheep and Goat Veterinary Conference in Seville, Spain, in 2022.
https://portal.moredun.org.uk/shop/books-dvds/world-sheep-and-goats-uk-delivery
https://portal.moredun.org.uk/shop/books-dvds/world-sheep-and-goats-non-uk-delivery