The International Sheep Veterinary Association is an international body of sheep veterinarians who seek to promote and improve the sheep industry and facilitate meetings and other scientific exchanges between members and individuals more>>
Is Your Country Interested in Bidding to Host the 11th International Sheep Veterinary Congress to be held in 2024?
The ISVA executive will be sending out a notice soon detailing the bid process, and the updated version will be posted as well on this website next week (December 7 2020).  The process will be somewhat different due to COVID-19 restrictions.  Bids will be accepted until July 1st, 2021.  Virtual presentations and voting will take place September, 2021 as the 10th ISVC has been delayed until 2022.
The World of Sheep and Goats
A global view of small ruminant production
Images and text submitted by delegates attending the 9th International Sheep Veterinary Congress.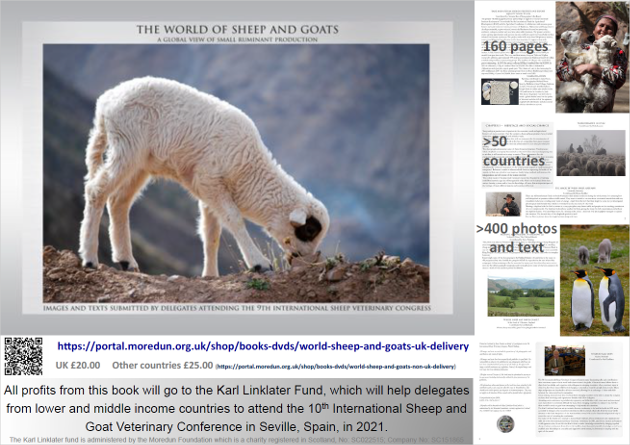 All profits from this book will go to the Karl Linklater Fund, which helps delegates from lower and middle income countries to attend the 10th International Sheep and Goat Veterinary Conference in Seville, Spain, in 2022.
https://portal.moredun.org.uk/shop/books-dvds/world-sheep-and-goats-uk-delivery
https://portal.moredun.org.uk/shop/books-dvds/world-sheep-and-goats-non-uk-delivery